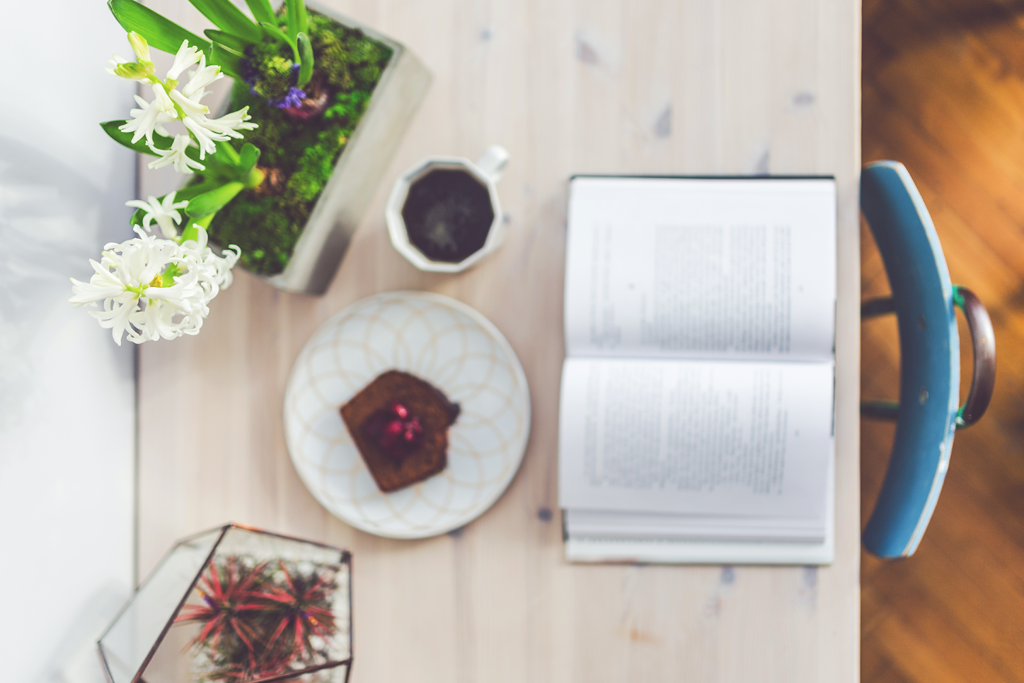 Interested in Law of Attraction? Here's what I've been reading.
I'm obsessed with all things Law of Attraction. I've been reading and studying and learning everything I can about this joy-based philosophy.
I've put together everything I've been reading (yes, I've read them all!)—and saved you the time and hassle of searching for how to leverage the Law of Attraction in your own life.
I invite you to see where your intuition wants you to begin. Happy reading!
---
The Amazing Power of Deliberate Intent: Living the Art of Allowing by Esther and Jerry Hicks
For anything to manifest in your life, there must be vibrational compatibility between your desires and your beliefs. This book tackles practical topics like body, home, work, relationships, money, world situations—and explores how vibrational incompatibility often is what holds you apart from your desire.
As a Man Thinketh: Original 1902 Edition by James Allen
OK, say what you will, but I cried when I read this: "Man is made or unmade by himself; in the armory of thought he forges the weapons by which he destroys himself; he also fashions the tools with which he builds for himself heavenly mansions of joy and strength and peace." It's just so very true. This is a classic book on thinking and how each of us shapes our own reality.
Ask and It Is Given: Learning to Manifest Your Desires by Esther and Jerry Hicks
This book was my first introduction to the emotional scale, which has absolutely changed my life. I love getting in alignment and feeling emotions at the high end of the scale like joy, love, appreciation, empowerment, and positive expectation. The book includes 22 practical (and powerful) processes so YOU can feel better and move up the emotional scale.
The Astonishing Power of Emotions: Let Your Feelings Be Your Guide by Esther and Jerry Hicks
This book teaches how to "let go of the oars" and go with the flow of Well-Being. I love all the real-world examples, from I can't lose weight to my husband tells me how to drive, from I'm not happy at work to I have never had enough money. This book really helped me understand the concept of upstream/downstream living.
Breaking The Habit of Being Yourself: How to Lose Your Mind and Create a New One by Dr. Joe Dispenza
I love the premise: You are not doomed by your genes and hardwired to be a certain way for the rest of your life. Combines the fields of quantum physics, neuroscience, brain chemistry, biology, and genetics to show how to create the reality you choose.
The Course in Miracles Experiment: A Starter Kit for Rewiring Your Mind (and Therefore the World) by Pam Grout
Pam Grout is in her usual fine form—translating complex concepts into ones that are easy to understand and actually apply to your real life. While this book is specifically about simplifying the lessons in A Course in Miracles, it has plenty of LoA takeaways. One of my favorites is: When we talk about anything—be it miracles or woe is me!—we deploy it into action. If you have that dense blue book (ACIM) on your bookshelf gathering dust, reading Pam's modern-day interpretation will be decidedly high vibe.
Dear Universe: 200 Mini-Meditations for Instant Manifestations by Sarah Prout
Prout has written 100 mini-meditations to rise above fear, based on how you're feeling. For instance, there's a meditation if you're feeling disconnected or guilty, misunderstood or resentful. Also included are 100 mini-meditations for embracing love. By answering how you want to feel, you can delve into meditations to feel more abundant or compassionate, more passionate or trusting.
The Dynamic Laws of Prosperity by Catherine Ponder
Don't think this book is just about money. The word "prosper" means "to flourish, succeed, thrive, to experience favorable results." Indeed, you are prosperous to the degree you are experiencing peace, health, happiness, and plenty in your world. Read this one to see how prosperous thinking leads to better health, increased financial success, a happier personal life, more education and travel, and a deeper spiritual life.
E-Cubed: Nine More Energy Experiments That Prove Manifesting Magic and Miracles Is Your Full-Time Gig by Pam Grout
You'll go deeper into the quantum field with nine new experiments to practice staying in the flow of abundance and synchronicity. My favorite experiment: The Boogie-Woogie Corollary (or The Importance of Not Being Earnest): Without Cultural Training, Joy Is My Natural State.
The Emotion Code: How to Release Your Trapped Emotions for Abundant Health, Love, and Happiness by Bradley Nelson
Like attracts like. When you have trapped emotions, that negative energy is drawing things into your life that you don't really want. By using the Emotion Code, it is possible to identify these trapped emotions, and release them. This book is the best kind of mind-bending woo woo.
E-Squared: Nine Do-It-Yourself Energy Experiments That Prove Your Thoughts Create Your Reality by Pam Grout
E-Squared is a lab manual with simple experiments to prove once and for all that reality is malleable, that consciousness trumps matter, and that you shape your life with your mind. You are invited to conduct nine 48-hour experiments to prove there really is a positive, loving, totally hip force in the universe.
The Game of Life and How to Play It by Florence Scovel Shinn
I absolutely love Florence Scovel Shinn, who had a profound influence on Louise Hay and other pioneers of personal transformation. Florence asserts that life is not a battle but a game of giving and receiving, and that whatever we send out into the world will eventually be returned to us. In other words, classic Law of Attraction.
The Intention Experiment: Using Your Thoughts to Change Your Life and the World by Lynne McTaggart
The bottom line: Thought is a thing that affects other things. I can't say it better than this from Deepak Chopra: "If you want to empower yourself and use the laws of intention to manifest your material reality, read this book."
The Law of Attraction: The Basics of the Teachings of Abraham by Esther and Jerry Hicks
This is absolutely the first book I always recommend to someone starting out with Law of Attraction. It clearly explains why you're getting what you're getting in life—wanted and unwanted. If you want to hear Abraham (channeled by Esther), get the Audible version.
Law of Attraction Series: Love Your Life + Law of Attraction by Jennifer Bailey (by yours truly!)
These ten volumes capture the first 100 episodes of my podcast of the same name. Each chapter offers a primer (think Law of Attraction 101) and practical application (how do I make this work in my life?)
The Magic Path of Intuition by Florence Scovel Shinn
This is one of those little gems you can read again and again, either from beginning to end or open the book randomly and you'll discover just the affirmation you need to tap into your inner knowing. Get ready for wisdom like this: "The Game of Life is a game of boomerangs. Whatever you send out comes back."
Manifest Your Desires: 365 Ways to Make Your Dreams a Reality by Esther and Jerry Hicks
I read from this book every.single.day. It presents the teachings of Abraham in digestible nuggets perfect for starting each day grounded in Law of Attraction. It's a beautiful book too and I often give it as a gift.
The Master Key System by Charles Francis Haanel
If you thought Law of Attraction was a recent discovery, think again. This was published way back in 1912. Cool fun fact: Charles was born in my adopted hometown of Ann Arbor—so I'd like to think we're connected!
Money, and the Law of Attraction: Learning to Attract Wealth, Health, and Happiness by Esther and Jerry Hicks
The two subjects most chronically affected by the Law of Attraction are financial and physical well-being. Many who watched or read 'The Secret' believe you can ask the Universe for good health and wealth—and the Law of Attraction will simply deliver it to you. But of course it's not as simple as that. You have to change the way you think if you want to change your world. This book will help you do just that.
The Optimist Creed and Other Inspirational Classics: Discover the Life-Changing Power of Gratitude and Optimism by Christian D. Larson
Contemporary research shows that optimistic people experience longer and healthier lives, better relationships, and higher incomes. Larson knew this way back in 1912. He encourages readers to embrace an "attitude of gratitude" because he understood that grateful living helps manifest our desires.
Playing the Matrix: A Program for Living Deliberately and Creating Consciously by Mike Dooley
Mike has his own unique style when it comes to teaching Law of Attraction—and he'll either resonate or he won't. You'll learn about the "Bermuda Triangle of Manifesting", when to attach and detach, all about the Cursed Hows, and when dreaming in general terms is superior to dreaming in details.
The Power by Rhonda Byrne
This is Rhonda's follow-up to The Secret. To create anything, to change anything, all it takes is just one thing: The Power. Spoiler alert: The Power = Love. This book does such a fantastic job of exploring and explaining how Love is synonymous with Law of Attraction. Oh, and I love the illustrations!
The Power of Your Subconscious Mind by Joseph Murphy
Here's the premise: "Whatever your conscious mind assumes and believes to be true, your subconscious mind will accept and bring to pass. Believe in good fortune, divine guidance, right action, and all the blessings of life." When I look at my copy, I see I've highlighted nearly every other sentence. It's a sunshine of yellow!
The Science of Getting Rich by Wallace D. Wattles
Warning: You have to get past some of the old-fashioned language (hey, it was written in 1910). Nearly a hundred years after it was written, this book, in part, inspired Rhonda Byrne's bestselling book and movie, The Secret. Fun fact: I wish I'd known about Law of Attraction and read the chapter on "Getting Into The Right Business" before I started my old company Red Spade.
The Secret by Rhonda Byrne
The 2006 documentary of the same name is how many of us first learned about Law of Attraction. While some criticized The Secret for its focus on acquiring shiny pennies (think: red sports car, money, big house), this worldwide bestseller nonetheless offers an easy-to-read introduction to the Secret—aka: The Law of Attraction.
Super Attractor: Methods for Manifesting a Life beyond Your Wildest Dreams by Gabby Bernstein
I devoured this book and then immediately re-read it with highlighter in hand. It's that good! Gabby teaches the practice of accepting that good things can come easily. "We all suffer from the belief that we have to struggle to feel good, succeed and attract what we want. In order to heal this belief, we must learn how to accept that when we relax and allow, good things come easily."
Thank & Grow Rich: A 30-Day Experiment in Shameless Gratitude and Unabashed Joy by Pam Grout
I love doing LoA experiments in my own life and Pam's book has some fantastic ones. This book will help you take your gratitude practice up several notches—and let the manifestations begin!
Thought Vibration: The Law Of Attraction In The Thought World by William Walker Atkinson
First published in 1908, Atkinson was a leader in the New Thought movement. Atkinson's working creed: I believe that "thoughts are things" and that the Law of Attraction in the thought world will draw to one just what he desires—or fears.
Trust Life: Love Yourself Every Day with Wisdom from Louise Hay
Trust Life is a wonderful way to start your day with inspiration, wisdom, and positivity. You'll find 366 affirmations and reflections drawn from the inspirational work of Louise Hay.
The Universe Has Your Back: Transform Fear to Faith by Gabby Bernstein
Do you have a lot of fear-based habits? Are you trying to control every outcome? This book is a must read if you want to stop micromanaging and start trusting the Universe. Gabby will help you get unstuck from your low-vibe story, release resistance, and connect to love and flow.
The Vortex: Where the Law of Attraction Assembles All Cooperative Relationships by Esther and Jerry Hicks
My intuition said to read this last from the library of Esther and Jerry Hicks and the Teachings of Abraham—and I'm glad I did. It took me awhile to "get" the swirling Vortex of natural Well-Being. My favorite part is the flawed premises, especially "If I push hard enough against unwanted things they will go away."
Wishes Fulfilled: Mastering the Art of Manifesting by Dr. Wayne Dyer
Here's the promise of this book: Your wishes—all of them—can indeed by fulfilled. Because you can master the art of manifestation. I always love Wayne Dyer and this book doesn't disappoint. In fact, after reading it the first time, I immediately started it again from the beginning. It's that good.
You Can Create An Exceptional Life by Louise Hay and Cheryl Richardson
Two of my all-time favorite people (including my best-loved life coach—that's Cheryl) co-created this book. It's a delightful read. My favorite chapter is How You Start Your Day Is How You Live your Life.
You Can Heal Your Life by Louise Hay
I love Louise Hay. She's helped so many of us live happier lives. Louise knew that what we think about ourselves becomes the truth for us. And that we're affirming and creating our life experience with every word and thought. Her work, deeply rooted in positive affirmations, is classic Law of Attraction.
You'll See It When You Believe It: The Way to Your Personal Transformation by Dr. Wayne Dyer
You'll See It When You Believe It demonstrates that through belief you can make your life anything you with it to be. This book is all about the classic Law of Attraction concept, captured perfectly by Wayne, "If you change the way you look at things, the things you look at change."
---
Law of Attraction Card Decks
Ask And It Is Given Cards
Health, and the Law of Attraction Cards
The Law of Attraction Cards
Money, and the Law of Attraction Cards
Power Thought Cards
Super Attractor Cards
The Teachings of Abraham Well-Being Cards
---
Resources may be affiliate links, meaning I get paid a small commission (at no extra cost to you) if you use that link to make a purchase.