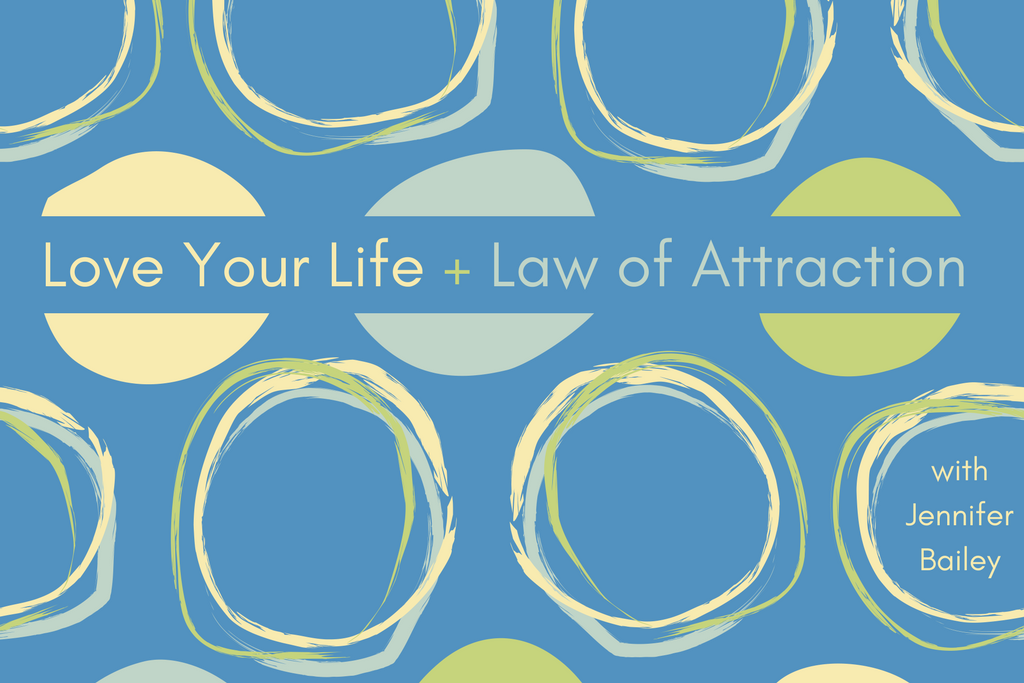 Welcome to Love Your Life + Law of Attraction.
Today we're going to talk about how to use the emotional scale and reach for better-feeling thoughts.
This episode is perfect for anyone who wants to learn…
How the Law of Attraction acts as a mirror, an echo, a boomerang, and a copying machine
Two essential Law of Attraction skills for feeling better in your NOW—and attracting more of what you want into your life
How we've all become too willing to hang out on the lower end of the emotional scale thinking thoughts that don't feel good
What the whack-a-mole game at the county fair has to do with waiting for circumstances to line up just the way you want
Why you have to be willing to experiment to see if your thoughts bring relief
The thing your spouse, kids, and best friend can't do for you
When anger could, indeed, be a fantastic option for relief and the downside of assuming we know how others should be feeling
The superpower you can have that will have you saying, Oh my, look what I can do! So THIS is how life works!
---

Quotables
"Remember that the law of attraction says whatever you give, you receive. If you think of the law of attraction as a mirror, an echo, a boomerang, or a copying machine, it will help make you clearer on what to imagine and feel. The law of attraction is like a mirror because a mirror reflects back exactly what is in front of it. The law of attraction is like an echo because whatever you give out is exactly the echo that comes back. The law of attraction is like a boomerang, because whatever boomerang you throw is the exact same boomerang that comes back to you. The law of attraction is like a copying machine, because whatever you give is reproduced exactly and you will receive back an exact copy." —The Power (The Secret Book 2)

"When you reach for the thought that feels better, the Universe is now responding differently to you because of that effort. And so, the things that follow you get better and better, too." —Abraham

"As you think thoughts that feel good to you, you will be in harmony with who you really are." —Abraham

"Your emotions come in response to your thoughts. So a feeling is a manifestation because it's coming in response to a thought. If you care about the way you feel, you will find a way to redirect your thoughts. It literally is as simple as that." —Abraham

"It's not about avoiding a thought, it's about finding another thought." —Abraham

"If your intention is to find a thought, any thought, that feels better, and you are consciously aware of how that thought feels, you can begin to move up the Emotional Guidance Scale immediately. It is really a process of thinking a thought, any thought, and then consciously evaluating whether the new thought gives you any feeling of relief from where you were before that thought. So, you think and feel and think and feel, with one intention only: to feel even the slightest bit of relief." —Ask and It Is Given

"Attention to how you are feeling is necessary in order to understand everything that is happening to you. How you feel—and the feeling of relief that you discover as you reach for better-feeling thoughts—is your only true measurement of what you are attracting into your experience." —Ask and It Is Given

"I like knowing that the amount of time it will take for me to go from where I am to where I want to be is only as long as it takes me to find a better-feeling thought." —Abraham

"Whenever you are feeling less than good, if you will stop and say, Nothing is more important than that I feel good—I want to find a reason now to feel good, you will find an improved thought." —Abraham

"Don't make it hard. Pay attention to the way you feel. Reach for the best feeling thought you can find from wherever you are, and off you go in the direction of all things that you want!" —Abraham

"The longer you remain in the improved feelings of relief, the more those better-feeling thoughts will attract other better-feeling thoughts, until, in time, you will be in alignment with your own desire." —Abraham

"The discipline that we would like you to exercise is to make a decision that nothing is more important than that you feel good, and that you are going to find thoughts that feel better." —Abraham

Resources
Ask and It Is Given: Learning to Manifest Your Desires
LYL #002: Did you know there are only two emotions? (one feels good, one bad)
Law of Attraction Reading List
Resources may be affiliate links, meaning I get paid a commission (at no extra cost to you) if you use that link to make a purchase.