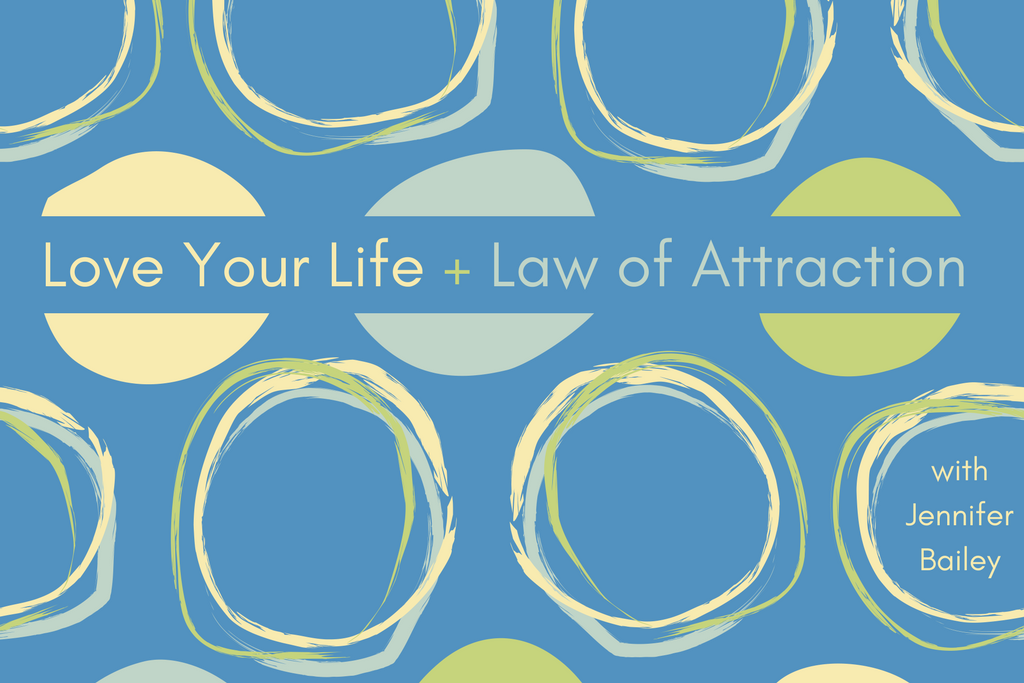 Welcome to Love Your Life + Law of Attraction.
Today we're going to talk about what the Vortex is and how to get in it.
This episode is perfect for anyone who wants to learn…
How not to get hung up on the term "Vortex" and, instead, embrace the concept
The price you have to pay if you want the manifestations—and it's probably not what you think
How it feels to be in the Vortex and up to speed with who you really are
Ten Vortex-inspiring questions you can ask and answer
Ideas for raising your vibration so you can move into the Vortex—and what these ideas have in common with self-care
---

Quotables
"Each time your physical life experience causes you to ask for something, a Vibrational, rocketlike request shoots forward and is received by your Inner Being and becomes the Vibrational, expanded version of your request. In order to help you get a sense of that process of expansion, we have called it your Vibrational Escrow or your Vibrational Reality. It is the furthermost, expanded version of you." —The Vortex

"When the Law of Attraction, the Universal manager of all Vibrations, responds to the clarity of Vibration offered by your newly expanded Inner Being, the result is a powerful swirling Vortex of attraction." —The Vortex

"So here is this Vortex of becoming—a Vortex that contains all of the requests, all of the amended requests, each and every detail of each and every asking that has emanated from you—and the Law of Attraction is responding to that. Envision this swirling, swirling, swirling Vortex and the power of attraction that is amassed as the Law of Attraction responds to this pure, non resisted, focused desire." —The Vortex

"If you pay the price of happiness, the manifestation will come. We promise." —Abraham

"Beyond the five physical senses that you are actively aware of, there is another less-realized sense—the sense of emotion." —Abraham

"How do you get in the vortex? You reach for the best feeling thought you can find." —Abraham

"Focus on something that gives you access to the Vortex." —Abraham

"The more you look for positive aspects, the more positive aspects will step forward to reveal themselves to you." —Abraham

"You have ten topics, and nine of them are just the way that you want them and one of them isn't. Most people spend all their time asking the question about that one that isn't, and they hold that one in suspended animation." —Abraham

"When I'm in the Vortex I feel ease about life. When I am in the Vortex it's like the Universe cooperates with me. When I'm in the Vortex I know my goodness, because it sort of surrounds me." —Abraham

"The key to getting inside your Vibrational Vortex of Creation; of experiencing the absolute absence of resistance; of achieving complete alignment with all that you have become and all that you desire, and of bringing to your physical experience everything that you desire—is being in the state of appreciation—and there is no more important object of attention to which you must flow your appreciation than that of self." —Abraham

"The Vortex is attainable, and it's attainable today. The Vortex is attainable, and it's attainable in 5 minutes. The Vortex is attainable. It's not a big dream." —Abraham

"You are good. Good is coming to you. You deserve the good that is coming. Give up the battle. Give up the struggle. Give up the competitiveness. Give it all up. Accept the goodness that is in your Vortex. Let it flow into your experience." —Abraham

Resources
The Vortex: Where the Law of Attraction Assembles All Cooperative Relationships
Love Your Life #037: Will you go on a Rampage of Appreciation?
Law of Attraction Reading List
Resources may be affiliate links, meaning I get paid a commission (at no extra cost to you) if you use that link to make a purchase.